I am an enthusiastic bat expert hoping to pervent these animals from extinction. Similar to underwater rugby, this hobby is a kind of family-disease, which has infected, apart from myself, also my father, my oldest brothder and, quite recently, also my husband. Everyone of us has its own field of interest, in my case this is public relations and taking care of helpless or injured bats, aiming to reintroduce them into nature when cured.
Helpless bat found - what to do?
Throughout Germany, there is a info phone of the NABU for lost bats or other questions. Do not worry about the Berlin area code, they will arrange for a contact person in your area.
If really no one is available, please do not touch the bat. Bats are potential carriers of rapies, and if injured it might happen that they bite. One can use a soft towel to pick it up, put it in a box (optimally offer some water i.e. on a spoon or even better a cotton swap), and drive to a vet. If arm-bones are broken, the bat should to be euthanized since these injuries have no hope of healing in a away that the bat can live without pain.
Bat are highly protected animals and are listed on the Red List of endangered species. It's a crime to keep a bet without informing the authorities. Therefore ALWAYS contact a bat expert e.g. from the NABU, who is familiar with bats and can arrange for the animal to end up in the right hands.
Activities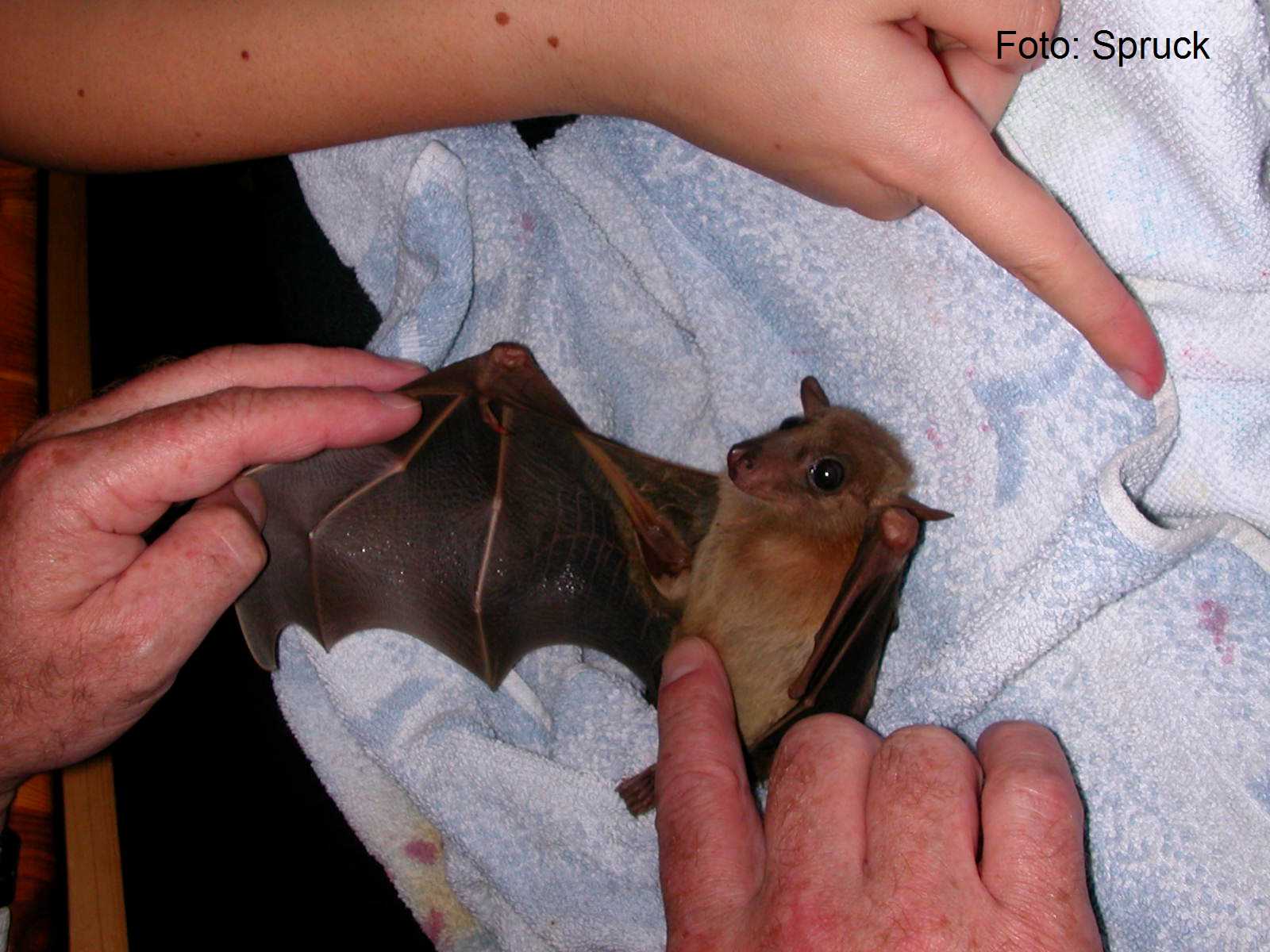 April 2018 to February 2020 Speaker of the AGFH on the Germany-wide NABU committee
since 2017 wildlife care station of Hesse
Mai 2016 Talk ''The bat - a strange patient?'' as upbeat for a lecture series of the club of friends and supportes of the veterinary medicine at the Justus-Liebig-Universität Gießen
since 2016 member of the AGFH board in advisory function, elected in November 2016
since 2015 support of the European Batnight of the NABU Fronhausen
2011 to 2015 adoption of helpless and injured bats in the Heidelberg area
2008 to 2017 support of the Gleiberger Fledermausnacht with bat nurslings
2006 to 2007 awarding of the certificate Fledermausfreundlichen Haus in the name of the NABU
2006 to 2011 member of the AGFH board
2006 short-time nursing of an Egyptian fruit bat (Esmeralda) from the Wilhelma Stuttgart, which was incapable of flying
2005 to 2010 some time-limited part-time contracts of the local community Heuchelheim and the town Linden as part of the holyday games
2005 leadership of a workshop on the topic of nature educational games at the national bat meeting BAG together with Marco König and Sabine Tinz
2004 to 2007 support of a reasearch work taking place at a nursery roosts of the gread mouse-eared bat in Niederzeuzheim
2003 to 2005 one-year reseach work as a fifth field of examination in the Abitur, topic was the surveillance of a nursery roosts of the gread mouse-eared bat in Rodheim Bieber
since 1998 adoption of helpless and injured bats
since 1998 autonomous leadership of excursions for school classes and natur protecting clubs, co-leadership of advancement training for teachers, supervision of school projects
since 1998 active member of the Arbeitsgemeinschaft Fledermausschutz in Hessen (AGFH)
1998 first nursling (a common nuctule called "Alvin"), during the course of the year leading of excursions together with my father Klaus Spruck